Dickie Landry – Fifteen Saxophones (Unseen Worlds) 
These days Dickie Landry spends much of his time gigging with a Southern swamp rock/boogie combo in his native Louisiana, but when these recordings were made in the mid-seventies, he was a key participant in New York's new music scene and a member of the Philip Glass Ensemble. This lost document of minimalism surfaced at an opportune moment, around the same time as the release of the much-lauded New History Warfare Vol. 2: Judges by contemporary reeds man Colin Stetson (whose long list of collaborators shares a few names with Landry's). A perfect compliment to the former's visceral, gut-punch dynamics, Fifteen Saxophones also deals in layering and overtone-heavy solo instrument experimentation, but comes from the opposite end of the spectrum. The title track is serene and hypnotic in mood, using multiple overdubs of Landry's tenor to create a vast expanse of drones, overlapping and converging ripples that often bring to mind the early compositions of Terry Riley. 'Alto Flute Quad Delay' is even more subtle in its unfolding as Landry concentrates on much longer tones with long delays that reveal their surprises slowly – you might find yourself hearing strings in several places. 'Kitchen Solos' returns to the sax for some live delay-enhanced soloing that hints more towards jazz and perhaps the late sixties Echoplex experiments of Eddie Harris's marvellous Silver Cycles. Here Landry explores the full tonal range of his instrument in an apparently improvised setting. The results are both controlled and unpredictable, alternating between fast runs, screeches and birdcalls, with the soloist allowing just enough time for each bouncing reverberation to inspire his next flight. (AB)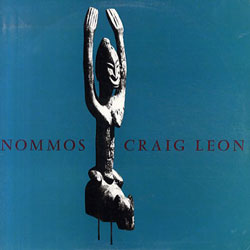 Craig Leon – Nommos  (no label)
Appearing in 2011 as a vinyl reissue in a deeply suspect photocopied cover, Craig Leon's Nommos was already a mysterious enough proposition; an industrial-electronic record originally released in 1981 on John Fahey's folk/'American primitive'-focussed Takoma label (though after it was sold to Chrysalis) performed and produced by a Sire label-contracted producer who worked with Blondie and the Ramones. As strange and intriguing as the backstory is though, it wouldn't mean anything if the music wasn't up to much. Fortunately, the album delivers far beyond expectations, albeit in a slow and understated fashion. The main tools are a basic rhythm box, which taps out hypnotic minimal beats apparently inspired by marches ('Ring With Three Concentric Circles'), blues ('Nommo'), and gospel stomp-and-clap ('Donkeys Bearing Cups); comb filter delays; insistent synth drones, and well, not much else. And yet with so little to go on, we can easily draw lines between this and NY minimalism, 23 Skidoo's groovier take on industrial, and the more electronic end of German kosmische (Cluster, Harmonia). That said, the liminal space it occupies between these areas is unique; just check the slow, half-finished funk of 'Four Eyes To See The Afterlife', eleven minutes of hypnotic but stuttering drums/percussion and eerie wordless wails. (AB)
Eliane Radigue – Transamorem Transmortem (Important)
One of the major London live events last year was Sound and Music's Eliane Radigue festival, which combined premieres of new acoustic works with playbacks of some of her older feedback and synthesizer-based work. As I wrote at the time, the notion of transformation is core to Radigue's music, at a macro level in terms of obtaining an overview of her entire career, and at a micro level, in terms of the subtle modulations within individual works. But thematically it also brought in spiritual and metaphysical concerns. Ultimately, the low volume, slowly unfolding nature Radigue's music demands a transformation in the listener: adoption of different ways of listening.
The title of Transamorem Transmortem, released at about the same time as the retrospective but dating back to 1973, suggests it fits into this lineage, but a text found within the tape case took it a step further. By setting out the optimal listening conditions, from speaker arrangement to lighting to floor covering, Radigue is hoping for (if not mandating) a certain level of participation on the part of the listener.Transamorem Transmortem can also be heard in a slightly different setting: in a sonic bed designed by Kaffe Matthews. While not quite as Radigue could have envisaged in 1973, my experience of listening to another of her pieces, Omnht, in such an contraption, suggests this would work well: I was able to relax, focus on the music, block out extraneous sound, and any notion of passing time, and just wander through the sonic architecture of Radigue's composition. In a hectic, fast-moving world, Radigue's work is an oasis of calm and slowness, where patience is prized. Listening to it is, fittingly, a transformatory experience; I don't think I've listened to music in the same way since.(SM)
Ghédalia Tazartès – Repas Froid (PAN)
One of the discoveries of the year for me was the back catalogue of French musical nomad Ghédalia Tazartès. I'd started listening to his work, such as those reissued by the Alga Marghen label, in advance of a performance he was to give at London's Cafe Oto (where else), and was immediately struck by the otherness of his work. While you could align it with musique concrète (Tazartès has collaborated with the concrète artist Michel Chion, who played at Oto on the preceding night), there is something about Tazartès which seems unique, as if he is outside of any prevailing movements, sourcing sounds from disparate locations in complete isolation from musical trends. The music can brings together field recordings, snatches of classical music, and drum machine patterns; in his voice you can hear French chanson, the call of the muezzin and, as if to emphasise the uniqueness of his musical dialect, he sometimes sings in his own made up language. A charming naivete and sense of humour rubbed up against a seriousness of approach and an engagement with more serious themes.
A version of Repas Froid was initially released by tanzprocesz in 2009, but Pan gave it the hi-spec D&M mastered, pretty poly-lined sleeve treatment it deserved. The title translates as "packed lunch", and what an assortment Tazartès has pulled together within this self-contained world. Again, it moves from style to style with a logic of its own, beginning with discord, a couple shouting over a looped section of strings, before accordion melody emerges. Elsewhere there are Arabic double reeds, primitive-sounding electronic rhythms, recordings of a French child speaking, but all bound together by that voice: moving from an intense, declamatory style to sections of near-microtonal throat singing. Ultimately, this couldn't be anything other than a Tazartès record, and from my perspective as a newcomer to his music, it was the best one I'd heard, in fact, one of the best things I'd heard by anyone in 2011. (SM)
Various Artists/Compilers – Make Do And Mend (Support Finders Keepers Series)
One of the stranger outcomes of the London riots was the setting ablaze of the Sony PIAS warehouse in North London, which housed a considerable amount of physical stock from a whole host of independent labels who used PIAS to distribute their wares. Much of this stock, from certain smaller labels, will never be repressed and represented a huge financial loss at a time when labels are struggling to make ends meet. Suggestions were made to buy records digitally, to ensure these labels continued to receive funds even if the records were no longer physically available. Finders Keepers responded in one of the more creative ways, instigating a series of compilations put together by "B-Music stalwarts and friends" including Gruff Rhys, Jarvis Cocker, Demdike Stare and more, creating a series of 10 releases, one issued every 2 weeks over five months.
Volume Seven has just popped through my letterbox, this release curated by the ever excellent Sublime Frequencies label showcasing some of the wonderful music found in less obvious locations around the world. Previously, the Demdike Stare compilation proved why they're at the forefront of weird electro-ambience and featured music by Vangelis, Gong and a multitude of European electronic pioneers. Jarvis Cocker's selection reflected his homely 6Music radio show, David Holmes showed why he should produce nothing but movie soundtracks, and Gruff Rhys proved he should be anointed the gatekeeper and preserver of Wales' often overlooked musical heritage. Never has taking part in a good cause felt so musically rewarding. (RH)
Various Artists – Gene Hunt Presents Chicago Dance Tracks (Rush Hour)
Chicago exerted considerable influence over the electronic dance music world in 2011 as a number of British producers especially looked towards the city for influence, both classic and contemporary. Whatever one thinks of the results of these excursions and what they might say about the state of the UK scene, they pointed ears towards some of the most exciting music the Midwest has ever produced. At one end of the chronological spectrum, Planet Mu continued their sterling work of bringing the best of current footwork to the wider world, while at the other, Dutch imprint Rush Hour dug all the way down to the roots, releasing the Virgo Four Resurrection boxset, and even better, this double (on vinyl) compilation of unreleased works by many of the key players from house music's first wave.
The collection's rather prosaic title may not seem to promise much, but it does reflect the utilitarian nature of the contents and their connection to the footwork of today: these are ultra minimal, rough-around-the-edges tracks produced strictly for getting people on the floor. Passed by producers themselves to Gene Hunt (a protégé of scene lynchpin and Music Box resident DJ Ron Hardy) in the early-mid 80s, these exclusive homemade reel-to-reel recorded experiments are undeniably enhanced by their relatively lo-fi quality and you can hear their creators working out the technology as they go along. Elements slip slightly out of time, changes and breakdowns are often unpredictable, samples get buried beneath or jump out unexpectedly above clattering Roland drum machine rhythms and the most rudimentary of synth lines. It's all about as far as you can get from the generic slickness we came to associate with house music in the nineties. Even Larry Heard, the most musical of producers, is at his most raw on the solo-happy gospel-jazz-disco jam 'Finger Fuck', probably the most 'complete' song here. It's the stripped down stuff that's most revelatory though: Steve Poindexter's 'Betsy Smith' is just one of the awesome oddities, low-bit crunches stand in for snares as the ghost of legendary blues singer Bessie Smith declaims