In the run up to this show, someone told me that Keiji Haino once insisted upon playing so loud that the sound engineer at the gig quit in disgust. Someone else told me that, despite the volume he plays at, he thinks earplugs should be banned at his shows (Oto, having somewhat more sense, dispensed them for free). What is the purpose of this merciless pursuit of maximum volume? And why does the audience willingly submit to it? Despite the forewarnings, I parted with my cash for the first of two sold out nights of a mini-residency which were to match the Japanese avant-garde guitarist with two rather different practitioners of the loud arts: Matthew Bowers's Voltigeurs project, and on the next night the fiery German saxophonist Peter Brotzmann. The evening which paired him with Bower was to show just how important a weapon volume can be, both in the form of a sustained barrage of noise and in short, dramatic explosions, but also how it can be so easily sapped of its power if handled carelessly.
Last time I saw Matthew Bower play, it was in St Giles-in-the-fields, where he proceeded to enact all manner of strange pagan ceremonies in the historic church, drawing symbols on bedsheets, dripping candle wax, and spitting red wine. Even in this new slimmed down lineup, featuring just him, Samantha Davis and a wall of amps, it felt like an act of worship rather than a musical performance. With us all facing the same way, turning their backs on the audience seemed not like a rejection, but more like an invitation to share in a communal experience along with them. When Bower sank to his knees mid-set, it look like rock star posturing at all, he was prostrating himself before the source of the sound. And what a sound it was. Layer upon layer of unrecognisably disfigured guitar built up, merging with the feedback, the shards collecting together into dense shapes, pulses and frequencies surfacing before being subsumed back into the tangled mass. With earplugs in this would have sounded dull and lifeless, but without them it was rich and immersive, transcending the point of pain until it became strangely euphoric.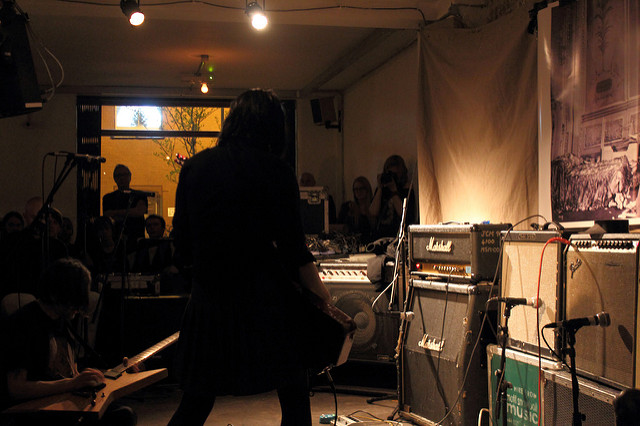 Keiji Haino is clearly in thrall to the guitar; not just to its sound, but to all that in represents. At times during this lengthy – very lengthy in fact – performance it felt like he was taking us on a journey through the instrument's history, touching on its use in rock, blues, metal and jazz. These wild contrasts in mood were matched with extremes of volume. The beginning of the set was extraordinarily intense, with Haino playing some soft, deft, improvised guitar, reminiscent of his former collaborator Derek Bailey in its unconventional timbre and construction, letting the sounds die out into the room, before SCREAMING into the mic. He was soon to do the opposite: sections of sweet vocal melody being rent asunder by a savage six string eruption. The set's diverse intro also featured him growling whilst playing Kaoss Pads in theatrical fashion, looking and sounding like a sorcerer conjuring spells. After around half an hour he switched back to guitar, for what I assumed was to be another similarly brief interlude. He was still playing it well over an hour later, alternating again and again (and again and again) between musings on jazz figures, blues licks and rock riffs as dumb as they come (think "Paranoid" or "Helter-Skelter"), and hair-flailing, string-snapping white noise freakouts. Through repetition, the power of the contrast between melody and noise, and between quiet and loud became entirely diminished, the set ultimately becoming as grey and overlong as Haino's mane itself.