Despite clear evidence to the contrary, we're actually quite wary of lists here at The Liminal. There's something reductive in them, something approaching dry consensus and conservatism. And yet… the allure remains and when it throws up results as varied as this, we think it's worth sharing. We widened our net this year – hence the expansion to 50 entries. Contributors this time around were: Sonny Baker, Andrew Bowman, Joseph Burnett, Lynley Edmeades, Rich Hughes, Bruno Lasnier, Peter Marsh, Scott McMillan, Christopher Olson and Matt Poacher.
1. Pelt – Effigy (MIE)
Effigy was a belly roar of Big American Music – full of chaos and ecstasy, full of joyful clamour. It was a work of excavation, its hands deep in the soil, in the fabric of national memory – the effigies of the title referring to the mounds that rise out of the landscape around Madison, Wisconsin, where the album was recorded live in 2011; it was also a work of mourning, a febrile celebration of the passing of Jack Rose, whose spirit floats like woodsmoke above the record's rolling expanses. That it managed to explore these themes and avoid po-facedness and over-earnest dramatics is testament to those involved, and those it celebrated.
2. Shackleton – Music for the Quiet Hour / Drawbar Organ (Woe To The Sceptic Heart)
If, as the man says, we are all David Toop now, then somehow Shackleton must be the neurons, or maybe the writing hands. There's always been something of Toop's style in Shackleton – the exploratory nature, the episodic open-endedness, the almost propulsive sense of stasis. And Music for the Quiet Hour is the very epitome of all this. On its 5 tracks, Shackleton has somehow stepped through the gaps between the beats and discovered a new Mandelbrotian layer of complexity and calm. He gives each track space to breathe and unfurl to a logical conclusion, unafraid, particularly on Parts 3 & 4, to allow for long passages of inertia. But even these periods of inertia are alive with a kind of crackling creative energy, an energy stirred and kneaded by the calm monologues of Vengeance Tenfold. The other word one could use is 'shamanic' – it's daft and overblown language, of course, but there is something increasingly mantric and psychedelic about the direction Shackleton is heading. He's one of our most intriguing explorers at present, and Music for the Quiet Hour might just be the best thing he's done.
3. Actress – R.I.P. (Honest Jons)
Much of Darren Cunningham's work to date has been glitchy and cut up, granular and atomistic. Splaszh, especially, had a stuttering quality, sections feeling like mental blips, interrupted neuronal messages. There was also a real sense of flair involved, virtuosity. R.I.P is ostensibly a much calmer affair, with greater areas of space in the fabric of the tracks and a real sense of completeness in form – it 'feels' like an album. In an interview with Dazed Digital, Cunningham said "even though music isn't silence in itself, the actual process of doing it can be silence" and in that strangely contradictory statement is the truth of the album: it does feel as though it's built from a base of silence, from the ground up as it were. The whole thing is full of this contemplative air, but it's the later sections that have the greatest poignancy, tracks like 'Tree of Knowledge' with its deep waves of sub-bass and gritty cymbal clusters, and 'N.E.W.' coming on like a elegiac Ballardian waltz. All in all it's quite a statement and a complexly emotional album.
4. Hallock Hill – A Hem of Evening (MIE)
A Hem of Evening is a gentle and overtly seductive affair that carries with it a sense of longing which adds dimension and punch. The upshot is a record which will continue to tug at you, which insists on your attention, your engagement. It is a record to which you might want to make something of a commitment. It is confounding, thought provoking and will enrich your life. It is a record you might find yourself loving, if never quite fully grasping. [Full review]
5. Raime – Quarter Turns Over A Living Line (Blackest Ever Black)

Delivering on the promise of their much-lauded EPs, Joe Andrews and Tom Halstead managed to sustain intrigue by apparently paring down the essentials of already relatively minimal forms: industrial, dubstep, doom metal, darkside jungle/d&b. Quarter Turns' seven tracks are skeletal but sturdy; these bare bones aren't brittle, but hefty and loaded with threat. Dubstep's sparse kick and snare swing is transformed into tap dripping, clock ticking, rain tapping menace while the sensual slink of jungle and 2step's hi-hats appears only as a distant death rattle. Minor chords, bass and detached voices lurch, loom and hang in the space between the beats, barely fleshing things out and developing too slowly to get anywhere near a melody and too spare to reach into the realms of noise. The duo claim this music is cathartic but even on "Your Cast Will Tire", the closest they get to rocking out, the release is tightly controlled. What there is of a riff consists of guitar (or is it cello?) quivering and slicing through the track insistently. Pure distilled dread.
6. Lee Gamble – Dutch Tvashar Plumes (PAN)
PAN were probably one of, if not THE, labels of the year, and they treated us to something special in 2012 with not one but two releases from the post-techno stable of Lee Gamble. Diversions might have been a bit more left-field with its approach of taking the ambient passages from classic Jungle mix tapes and re-assembling them to make something brilliant and new, but Dutch Tvashar Plumes takes the plaudits for being wholly original. Continuing his exploration of space and timing, avoiding the tendency to force breaks and beats into a continuous flow of overpowering sound, Plumes showed Gamble's immense control over this unique sounding mesh of techno, electronica and computational music without making it sound dull, contrived or lacking in soul.
7. Richard Skelton – Verse of Birds (Corble Stone Press)
Although far from rapturous, Verse of Birds is traversed by a spirit of elation, the work of an artist rendered speechless by his surroundings but committed to translating this feeling in sound. Skelton's talent lies in how he recaptures the land's openness, and a sense of space and air dominates the album: it lies between the notes of his violin and guitar, it fills the musical mind-image he creates with thoughts of endless skies, rolling seas and uninhabited greenery. These images are palpable, but at the same time elusive, and what you're left with is space. Not emptiness, just space. One to fill with emotions, sounds and thought, from a delicately-plucked acoustic guitar (a welcome addition to his sonic palette) to those heart-rending, airy drones he's become a master of. [Full review]
8. Holly Herndon – Movements (RVNG Intl)
Movement is a compelling listen where tech-dread is unpacked and embraced, where finely-crafted cascades of digital jelly tumble and the presence of voice warms the sterile atmosphere, not unlike work by Ellen Allien and Antye Greie/AGF. For other listeners, it'll be a couple of thumpers padded by works that come off like the cliched mainstream perception of "Avant Garde" music. Their loss. [Full review]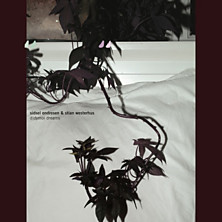 9. Sidsel Endresen / Stian Westerhus – Didymoi Dreams (Rune Grammofon)
Not an obvious pairing maybe, but Endresen proves herself more than capable of engaging with the guitarist's chilly, dense abstractions in this gripping live set. As Westerhus generates cavernous thunks, thick flurries of distortion and subaquatic drones, the singer matches him with episodes of wild sprechstimme (sounding like a malfunctioning teach yourself Esperanto CD), or snarls and spits away in a manner that'd give PJ Harvey or Lydia Lunch nightmares. There are passages of respite too; lyrical, almost folkish melodies emerge and recede, finally culminating in the quietly stunning 'The Law of Oh'. Brave, empathic, seat of the pants musicmaking.
10. Oren Ambarchi – Audience of One (Touch)
If the Liminal had a "Man of the Year" award (and assuming we decided not to give it, in a Time magazine-style cop-out, to "THAT INCREASINGLY PERVASIVE AND TANGIBLE SENSE OF DREAD"), it would go to Oren Ambarchi. In 2012 Ambarchi carved out around a dozen new works, from solo neo-Krautrock monoliths through to Haino-blasted group improv scree. But it was his first release of the year that was to be the most significant. Audience Of One contains not just some of his most melodic work yet (including a love song and and a cover of an Ace Frehley – yes, him from Kiss – track), but some of his most memorable. Its centrepiece, "Knots", is a torrid thirty minute doom drone epic which ultimately rings out through the gloom with the intensity of a foghorn. As it should, for these rocks would sink any ship.
And the best of the rest…
11. Simon Scott – Below Sea Level (12K) (interview with Simon Scott)
12. Hildur Guðnadóttir – Leyfðu Ljósinu (Touch) (Full review)
13. Scott Walker – Bish Bosch (4AD) (Full review)
14. Duane Pitre – Feel Free (Important)
15. Andy Stott – Luxury Problems (Modern Love)
16. High Aura'd – Sanguine Futures (Bathetic Records) (Minimal review)
17. The Swifter – The Swifter (The Wormhole) (Full review)
18. Mark Fell – Sentielle Objectif Actualité (Editions Mego) (Minimal review)
19. Richard Youngs – Amaranthine (MIE Music)
20. Ekkehard Ehlers – Adikia (Staubgold Digital)
21. Mt Eerie – Clear Moon (P.W. Elverum & Sun)
22. Stian Westerhus – The Matriarch And The Wrong Kind Of Flowers (Rune Grammofon)
23. The Puddle – Secret Holiday & Victory Blues (Fish Ride Records)
24. Motion Sickness of Time Travel – Motion Sickness of Time Travel (Editions Mego) (Full review)
25. Loscil – Sketches from New Brighton (Kranky)
26. Jacques Brodier – 'Filtre De Réalité' (Penultimate Press)
27. Jim O'Rourke – Old News Series (Old News)
28. Evan Parker Electroacoustic Ensemble – Hasselt (Psi Recordings)
29. Oberman Knocks – Beatcroff Slabs (Aperture)
30. Gunn-Trusinski Duo – Ocean Parkway (Three Lobed) (Minimal review)
31. Vindicatrix – Mengamuk (Mordant Music)
32. Andrew Bird – Hands of Glory (Mom & Pop)
33. Talvihorros / Damian Valles – Monuments And Ruis (Textura)
34. Various Artists – Night Music: Voice in the Leaves (Louth Contemporary Music)
35. Panopticon – Kentucky (Pagan Flames) (Minimal review)
36. Jakob Ullmann – Fremde Zeit Addendum (Edition RZ)
37. Lower Dens – Nootropics (Ribbon)
38. Four Tet – Pink (Text Records)
39. Darling Farah – Body (Civil Music)
40. Helm – Impossible Symmetry (PAN) (Full review)
41. Fire! with Oren Ambarchi – In The Mouth A Hand (Rune Grammofon) (Full review)
42. Joe McPhee/Eli Keszler – Ithaca (8MM) (Minimal review)
43. Wadada Leo Smith – Ten Freedom Summers (Cuneiform)
44. The Clean – Oddities (Five Four-0)
45. Carmina Quartet – Bartok String Quartets 1 and 2 (Solo Musica)
46. Traxman – Da Mind Of Traxman (Planet Mu)
47. Ash Borer – Cold of Ages (Profound Lore Records)
48. Trapist – The Golden Years (Staubgold)
49. Matt Elliott – The Broken Man (Ici d'ailleurs) (Minimal review)
50. John Maus – A Collection of Rarities and Previously Unreleased Material (Ribbon Music)
Cover photo courtesy of Scott McMillan